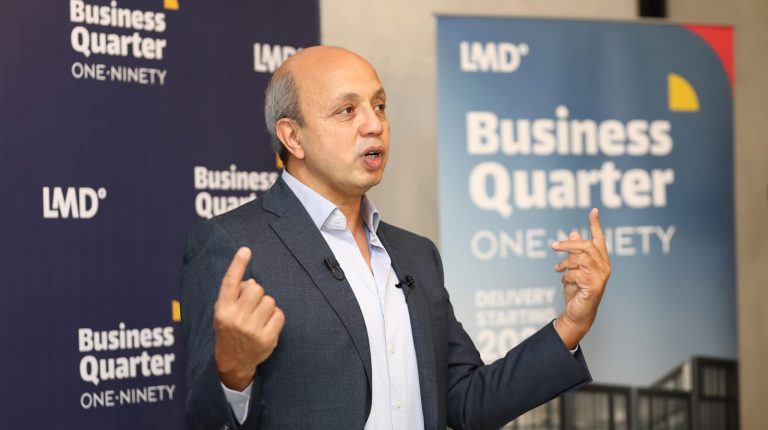 LMD invests over EGP 33bn in ONE NINETY project –
Daily News Egypt – 2021
The real estate company, LMD, has announced the rapid progress in construction of ONE NINETY Business Quarter.  ONE NINETY has total investments of over EGP 33bn, and its Business Quarter has investments of EGP 11bn.
ONE NINETY comprises branded residential neighborhoods with W Residences Cairo and St. Regis Residences New Cairo, two international hotels with W Cairo and Aloft Hotel, an urban park, Avenue 190, and retail pavilion.
It is located on Road 90 intersecting with the Ring Road; this is how the project's name brilliantly came up.
With the diversified project being spread over 344,315 Sqm, ONE NINETY's Business Quarter takes up to 94,298 sqm of area. The delivery of the Business Quarter is starting in 4Q of 2022.
Masterfully designed into 4 interconnected Quarters A, B, C & D, the Business Quarter has 19 buildings distributed on quarters A, B, and D.
Amr Sultan, CEO of LMD, commented on ONE NINETY's Business Quarter saying, "We always strive to transform communities; that is the goal we are achieving with the Business Quarter. Through believing in the power of celebratory work environment, and having passion to give our clients the newest assets in Egypt, we designed the Business Quarter buildings to have its own entrance in addition to having it overlook the Urban Park, ensuring open paths in and out of the area. And because a cheerful and professional work setting requires all assets to be within close proximity, we chose the Business Quarter's location to be inside ONE NINETY providing work and lifestyle in one place."
Having buildings strategically distributed on Quarters A with 4 buildings with one for The Arab International Bank (AAIB), D with 10 buildings, and B with 5 buildings, all of which have 3 basements levels, G+5 levels, and LMD is excited to announce that the delivery is starting in Q4 2022.
All 4 quarters of the Business Quarter are green, smart and friendly to physically challenged people. ONE NINETY's Business Quarter offers showrooms, vast office spaces, retail, F&B and rooftop restaurants, as well as, a luxurious lounge and front desk services. Further, the Business Quarter has CCTV systems, a building management system, high speed and capacity elevators, backup generators, fiber optics cables, fire protection system (NFPA), and facility management system.
Sultan added, "LMD promises its clients the best work setting possible to prosper in, and that starts with ONE NINETY's Business Quarter's masterplan. This is why we collaborated with SOM for its design and HILL INTERNATIONAL for ONE NINETY's management. We also chose such a vital location especially with a monorail station exclusive for ONE NINETY to make its Business Quarter as accessible as possible for our clients." That is why the Business Quarter is the first choice for such big names as Aston Martin, The Arab International Bank (AAIB Bank), and The Egyptian Gulf Bank (EG Bank).  "ONE NINETY is a project that values comfort and luxury, so we incorporated a range of services and facilities in its Business Quarter to mix comfort and work together, creating a healthy work environment." Eng. Sultan Concluded. Further, W Residences and Cairo hotel are having their interior design done by Bowler James Brindley and the project master plan by Gensler.