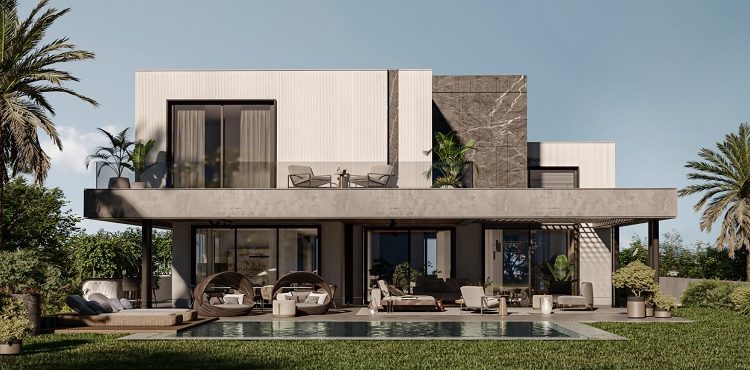 LMD Launches STEI8HT Project in New Cairo –
Investigate – 2022
LMD launches STEI8HT, its latest residential and mixed-use project in Egypt, with EGP 30 bn in New Cairo, Invest-Gate reports.
The first batch of residential units will be delivered in Q4 2024.
Amr Sultan, CEO of LMD, says that STEI8HT has distinctive features and comprises eight parcels with a total of 2000 exclusive villas and residential units, including standalone villas, twin houses, and townhouses with various spaces starting from 230 sqm to 800 sqm. The project's total built-up area spreads over 6000 sqm, representing only 15% of STEI8HT's total area of 371 acres.
Additionally, the project comprises a fully-fledged commercial and administrative district on a total area of 172 acres. STEI8HT is an integrated urban community, where commercial, entertainment, social life, art galleries, and cultural events come together to help residents enjoy all aspects of living.
Every parcel of STEI8HT has private access and a Clubhouse. Parcel 1 "Jade Fields" stretches over 30 acres and comprises 400 residential units with different areas. The vast area of STEI8HT makes it a heavenly park featuring exponential green spaces and waterfronts separating the project's eight parcels, offering residents more than 28 sqm of spectacular scenery in front of every unit.
LMD delivers semi-finished villas and gives owners of large villas the opportunity to select the internal design of their dream. To ensure easy access and seamless mobility, LMD will create a network of internal roads and promenades to connect different components, with four accesses leading to STEI8HT from outside, three of which are located on Cairo-Suez Road, while the fourth is a 90 m wide private access for residents driving home from Youssef El Sibaie axes.
It is worth mentioning that LMD has many projects in Dubai and Barcelona. The company also has many prominent projects, including Stei8ht in East Cairo, Zoya Ghazala Bay in the North Coast, One Ninety in New Cairo, and 3Sixty  in New Cairo's Golden Square.