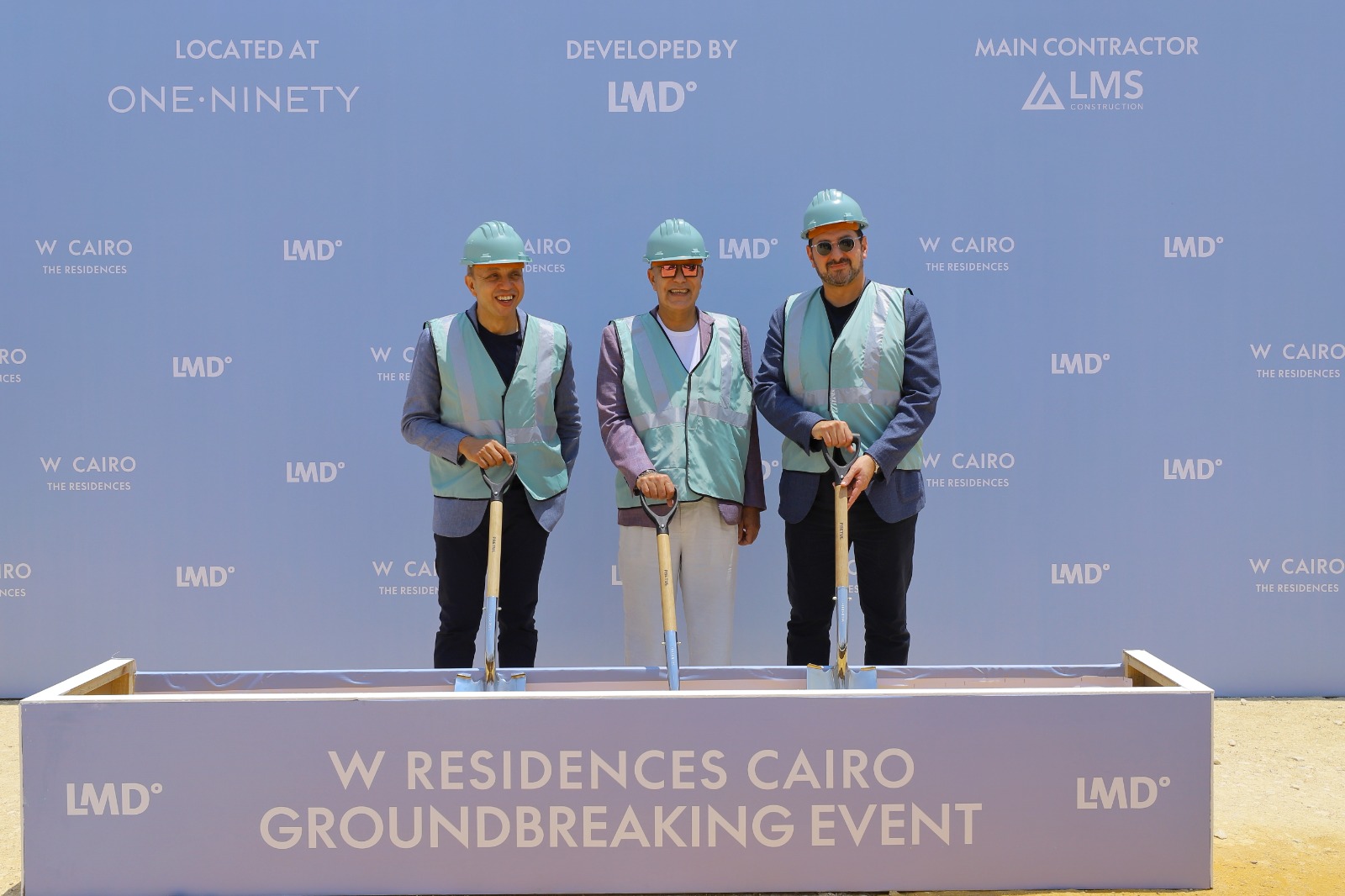 LMD Breaks Ground on W Residences Cairo & W Cairo situated within its Flagship One Ninety Development in New Cairo
Egypt Today
Leading real estate company LMD has broken ground on W Residences Cairo and W Cairo, which are anticipated to mark the debut of the W Hotels brand in Egypt and across Africa. The milestone signifies the start of construction works as part of the largest and most important residential area in LMD's flagship mixed-use project in New Cairo, One Ninety, with a strategic location on South 90th Street at the intersection with the Ring Road. In the presence of Eng. Ahmed Sabbour, the Chairmen of LMD, and a number of journalists and media personnel, Eng. Amr Sultan, CEO of LMD and Mr. Shady Hassan, Vice President, Lodging Development, in the Middle East and Africa, Marriott International, laid the foundation stone.
LMD is a leading real estate company that continues to establish an outstanding position in Egypt and many countries around the world, and is working to complete the W Residences Cairo & W Cairo by early 2026.
W Residences Cairo are set to demonstrate the modern lifestyle of hotel residential areas, introducing an integrated example of sophistication and progress that the Egyptian projects are able to achieve, and how they can compete locally and globally. W Residences Cairo are being built on an area of 120,000 sqm with a total investment of EGP 14 billion. LMD has allocated EGP 10 billion for the development of the residences, which will be managed by Marriott International. The residences are anticipated to include 300 units comprising hotel apartments and penthouses with innovative designs that provide residents with a unique and elevated experience that combines comfort, luxury, and tranquility. All residential units will have a panoramic view of the sprawling Urban Park, gardens, and open spaces of One Ninety.
W Cairo will be situated near W Residences Cairo on a built-up area of 41,880 sqm, and is anticipated to include 400 hotel rooms and suites that provide world-class services and facilities managed by Marriott International. W Cairo will feature locally driven, sophisticated design as well as dynamic programming, embodying the philosophy of W Hotels.
Eng. Amr Sultan, CEO of LMD, expressed his happiness with this milestone, which falls within a concrete plan to proceed with all construction works in different projects. "LMD provides its clients with the latest offerings of distinctive projects and services, and One Ninety is a concrete example of this. We seek to make this project a destination for those who want to enjoy every moment of life from Egypt and abroad, as well as a real attraction for Egyptians and foreigners alike. Since the beginning of the project, we have been collaborating with a number of the most prominent companies and global brands to introduce versatile and unique-quality integrated urban communities. Today, we are laying a new cornerstone in this flagship project, by laying the foundation stone of one of the most important and largest components in One Ninety, W Residences Cairo and W Cairo. We are keen to provide an innovative concept of hotel residential areas offering high-quality services to residents and visitors under the management of Marriott International, which is well-known for its global reputation  as one of the best hospitality companies worldwide. We hope LMD will be a contributor and supporter of the state's efforts to strengthen real estate export and encourage tourism by targeting 30 million tourists in 2026 through our projects."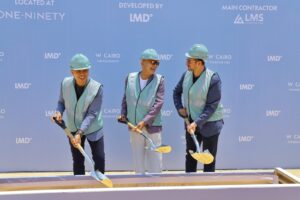 I
Mr. Jaidev Menezes, Regional Vice President, Mixed-Use Development (EMEA), Marriott International, commented, "We are delighted to celebrate the groundbreaking of this landmark project.  We are excited to introduce the W Hotel brand in Egypt and look forward to working with LMD on the continued progress of the project."
LMD pays attention to every detail of the projects including the masterplan, designs, as well as the various implementation phases. Elements of creativity and innovation are integrated into both components to ensure the highest standards of luxury, comfort, and sophistication.
The master plans of W Residences Cairo and W Cairo were developed by SOM, a world-renowned company in urban planning, while both Gensler and BJB provided the architectural and interior designs for the area. The units enjoy exclusive privacy and private entrances for flowing traffic. All the luxurious modern elements of life for residents in "W Residences Cairo" are complemented by what One Ninety project is offering in terms of a diverse range of services. LMS CONSTRUCTION, the specialized contracting company is the main contractor of One Ninety project, where LMD aims to execute each part with high accuracy using the latest materials and technologies to make the entire project a perfect example of global real estate projects.