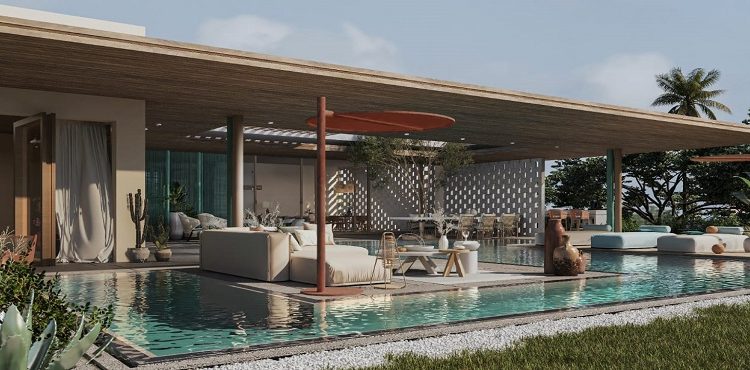 LMD Kicks off Zoya Ghazala Bay in North Coast –
Investigate – 2022
LMD launches Zoya Ghazala Bay project in the North Coast, with a total investment of EGP 6 bn, Invest-Gate reports
The project spans over 150 acres and is expected to be the sparkling jewel of Ghazala Coast and the whole North Coast. Zoya Ghazala Bay is designed by Alchemy Architecture, one of the most reputable architecture firms around the globe.
Additionally, Zoya Ghazala Bay is characterized by its totally-distinctive design, services, greeneries, and open spaces. Despite the vast area of the project, the total built-up area represents only 15%, while the remaining 85% is dedicated to open spaces, green spaces, and waterfront views.
The project's total built-up area is 153,000 sqm, comprising three phases with diversified unit offerings, including standalone villas overlooking the sea, the pools, and the lagoons. Further, Zoya Ghazala Bay features twin houses, townhouses, chalets, and cabanas with different areas starting with 120 sqm.
Amr Sultan, CEO of LMD, says that Zoya Ghazala Bay is a one-of-a-kind project, which celebrates beauty and exclusivity for residents and visitors.
The project's master plan will be executed by Archi-View Architect, which has vast expertise in developing integrated urban communities, by introducing innovative ideas. Archi-View Architect creates separating spaces between residential units to ensure the highest standard of privacy and exclusivity is provided to residents.
In order to enable easy access and mobility inside Zoya Ghazala Bay, LMD will establish a network of roads and promenades that will connect the project's key components and avail mobility options leading to public areas and service outlets.
It is worth mentioning that LMD has a vast land portfolio in prime locations nationwide, including One-Ninety, which is a mixed-use project on 90 street in New Cairo. Another flagship project is 3'Sixty, a business and leisure complex, which introduces totally-innovative concepts of administrative, medical, and commercial components in East Cairo. Additionally, Stei8ht project, which is LMD's first residential project in a strategic location in East Cairo and spans over an area of 500 acres.